Ropox SlimLine Wash Basin
Product Benefits
Electrically Operated
Height Adjustable
Wheelchair Access
Includes Mirror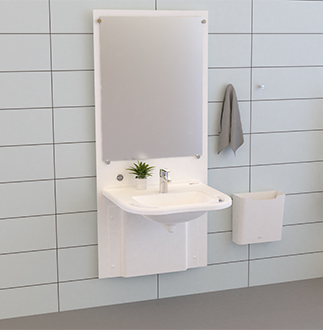 The SlimLine washbasin combines a mirror and sink in one unit meaning the mirror is always at the right height whether sitting in a wheelchair or standing. Electrical height adjustment is with a push control switch which is always within reach as it is located under the mirror.
Support washbasin
The Support model is made in composite material, but the difference lies in the design. The Support model has integrated hand rail grips which gives users with mobility difficulties extra support and safety helping to keep balanced. Users with reduced mobility also use the hand grabs to get up to a standing position or as support grab when sitting down. The handrails also serve as an aid for wheelchair users ato pull themselves closer to the washbasin.
The Support model has no cabinet under the washbasin affording free access from the front and sides making it comfortable and easy to use for wheelchair users to get close to the washbasin and within comfortable reach of the tap.
The Unit offers a slim space saving profile and comes with a NEW curved support basin for client safety and comfort.
The rounded corners of the SlimLine models help maintain high hygiene levels by minimizing bacteria growth.
Contact Us
To contact us call on 0845 838 0600 or email us using info@taylordolman.com. Alternatively, complete your contact details below and we'll get in touch as soon as possible: