Ropox Hudson Shower & Changing Bench
Product Benefits
Height Adjustable
Electrically Operated
3 Lengths Available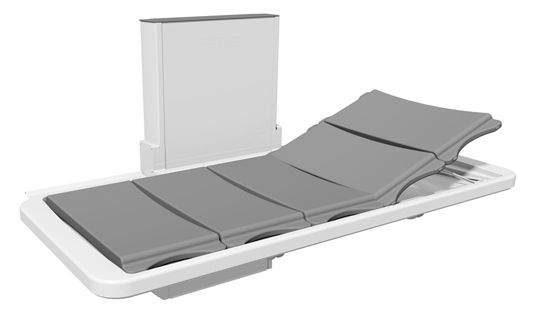 The wall mounted Hudson Shower and Changing bench offers electric height adjustment from 30-100cm providing fast, safe bathing and changing in a lying position.
Features:
The height adjustment helps transfers to and from a bed, wheelchair or standing position.
Carers benefit from a perfect, comfortable working height.
A water tray that catches most of the shower water – so carers stay drier.
Space below the bed for closer access.
The polyurethane covered slats are easily wiped clean after use.
They can be lifted out of the tray for thorough cleaning.
When preferred, the slats can be turned over to provide a softer foam pad.
 Folds up when not in use for optimal use of valuable room space.
Maximum load 220kg.
Contact Us
To contact us call on 0845 838 0600 or email us using info@taylordolman.com. Alternatively, complete your contact details below and we'll get in touch as soon as possible: