Ropox Swing Basin
Product Benefits
Swing Feature
Soft Touch Material
Range of Accessories
Secure Dock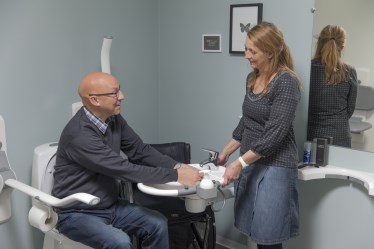 The Swing washbasin is recommended for both seated and standing users. You can adjust the height and rotate it 180˚which allows the basin to be moved toward the user. Walking-impaired users will find this washbasin particularly helpful because it can be pulled to the toilet. This means that they do not have to get up to use it and can safely wash their hands while seated.
The swing washbasin is also very practical for wheel-chair users. You can move the basin when required, e.g. push the washbasin to the corner when you need extra room for turning the wheelchair and to allow extra space for a carer to assist.
The swing washbasins are available with fixed height or height adjustment which can easily be adjusted when needed. The simple design without any dirt traps makes it easy to clean and the services covers create a neat appearance. The Swing Dock-In System fixes the basin when parked in the dock and is height adjustable with full services covers.
Contact Us
To contact us call on 0845 838 0600 or email us using info@taylordolman.com. Alternatively, complete your contact details below and we'll get in touch as soon as possible: