Ropox Standard Line Basin
Product Benefits
Easy to operate
Accessible from seated or standing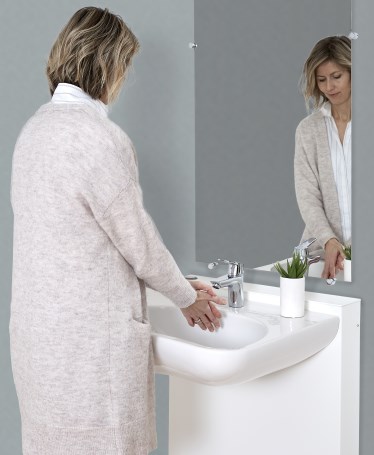 The StandardLine range is an excellent choice for a functional quality washbasin, that is suitable for private homes, care institutions and hospitals. Electrical height adjustment with the control switch having the option of being fitted on the right or left side of the washbasin. That is one of the small details that can make the basin fit your individual needs in the best possible way.
There are three types of washbasins to choose from so you can be sure to get the model that fit the users best:
Standard: A simple and stylish washbasin for users without any special needs
Support: A washbasin with good access and integrated handles that increases safety for users with limited physical capacity
Hospital: Porcelain washbasin with an inwardly ergonomic curved front for care environments and hospitals
No matter which StandardLine model you choose, you can be sure to get a washbasin that will last for years and is easy to clean to maintain hygiene standards.
Contact Us
To contact us call on 0845 838 0600 or email us using info@taylordolman.com. Alternatively, complete your contact details below and we'll get in touch as soon as possible: