Ropox Diagonal Kitchen System
Product Benefits
Electrically adjustable
Moves vertically and forward
Product Info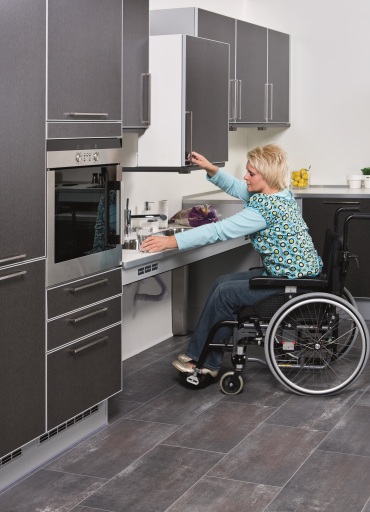 Electrical height adjustable frame for wall units.
Wall units are easily reachable from sitting position or standing.
Ideal for nursing homes and institutions, the Ropox Diagonal not only adjusts units by 43 cm vertically but also moves diagonally forward by 18 cm to put the cabinet within easy reach.
A push button allows control of movement to the required position and by a single press of the controls the frame returns to its normal position.
Standard wall units with height 70-80 cm can be used.
A safety stop plate is recommended to prevent trapping when lowering.
Light can be fitted in the safety stop plate to improve visibility.
Build in measurement (depth of frame) is only 11.5 cm.
Diagonals are available from 40-180 cm in increments 10 cm.
Ropox Diagonal is ideal for care environments from institutions and schools to private homes.
Contact Us
To contact us call on 0845 838 0600 or email us using info@taylordolman.com. Alternatively, complete your contact details below and we'll get in touch as soon as possible: