Guldmann GH2 Hoists (Discontinued-see GH3)

V. Guldmann A/S was established in 1980 by Viggo Guldmann with the concept to develop, manufacture and market technical aids for the disabled and provide working tools for their carers. The first "Handi-Hejs" concept ceiling hoist was the new idea of Viggo Guldmann in 1980, to develop a hoist and mount it on the ceiling as an alternative to the accepted mobile hydraulic lifters in use at the time. The battery driven Guldmann Dan Hoist was launched in 1987 to replace the cabled versions and aluminium rail systems were developed to allow whole room covering systems.
Not forgetting the mobile hoists that had become generally accepted moving and handling aids, Viggo Guldmann launched "the first" electric mobile hoist in 1982 to complement the ceiling hoist range.
Following some updates to the Dan-Hoist over the next few years, the new generation DH2000 was released in 1996 with the GH2 arriving in 2001, followed by the GH2F in 2005.
Now with the GH3 lifting models, launched in 2009,  the Guldmann aim is to continue to improve the working environment in every part of the social sector where people need to be moved and handled. Fine design of assistive technology aids has gained in importance, with many customers demanding an attractive but discreet appearance from modern equipment, which needs to look elegant and blend in with the appearance of a private home, a care home or acute care setting, whilst offering advanced performance.
Guldmann – Time to care
By supplying beds and lifting equipment as well as services that include advice and education, Guldmann works to ensure the optimum utilisation of resources in the care system, helping create more time to care. Guldmann operates worldwide and all products are manufactured in their own factories.
At its launch in 2001 the GH2 model set new benchmarks and quickly gained wide support with its small discreet modern design and advanced technical features. The GH2 offered first class user-friendly ergonomic features including: powerful batteries; excellent lifting capacities; up to 100 lifts per charge and sophisticated safety systems. In addition the comprehensive rail systems with switch tracks; Combilock Gates and even the introduction of continuous charging rails, ensured the GH2 models raised the bar in terms of providing increased security and comfort for users and cares.
Guldmann first started thinking about the next generation of assistive technology to replace the GH2 models, way back in 2003.
Guldmann undertook extensive surveys of customers, users, care professionals and key decision-makers in the care sector. After carefully noting and structuring all the feedback, this data, combined with the sum total of all Guldmann experience to date, formed the basis for the design thinking and the "ten directives" which underpin every rethink, feature and improvement in the new GH3 ceiling hoist concept.
The entire design process behind the new GH3 concept has therefore been based on the "ten directives".
The Ten Directives
These are the "ten directives" from customers and users on which all development work on the GH3 concept was based.
COMPLY WITH INDUSTRY NORMS – Designed to guarantee full compliance with HMI, UL and OSHA norms and regulations. Strong, reliable and longlasting.
ENHANCE MY WORKING ENVIRONMENT – Unique features include constantly charged modules always close at hand, exceptional low rolling resistance, quick-release fittings and intuitive hand controls.
MATCH MY WORK PROCESSES – Almost limitless versatility for effective use in virtually all lifting, transfer and moving situations, including all specialised needs.
PROVIDE A HIGH COMFORT FACTOR – Provides the smoothest and fastest ride in the world, with seamless rail joints and ultra-smooth starting and stopping.
COMMUNICATE ALL-ROUND APPEAL – Feels safe and comfortable at the same time as looking attractive and modern. A "less is more" system that is pleasantly unobtrusive.
BE EASY TO USE  – Effective power management along with park anywhere/ready to use features allow care staff to concentrate on patient interaction.
FREE UP MORE TIME FOR CARE ACTIVITIES – Streamlines all processes associated with lifting and handling patients, with 100% faster lifting speed, 100% faster horizontal speed and 40% more lifting capacity.
BE ATTRACTIVE TO LOOK AT  – Designed by architects for cost-saving integration and easy installation into building structures and featuring innovative use of shape, colour and materials that blend elegantly into the surroundings.
USE LESS ENERGY AND BE EASY TO RECYCLE – Responsible environmental profile during manufacture, effective power management while in use and focus on use of recyclable materials.
BE EASY TO LOOK AFTER – Easy to carry out mandatory safety inspections quickly and with a minimum of downtime for service or repair.
The new GH3 concept is the seventh generation of Guldmann ceiling hoist technology.
This breakthrough system is the culmination of 32 years of accumulated know-how and 5 solid years of specialist R&D work.
Designed for the Future
Wiping the design slate clean and beginning afresh with a new generation of thinking, combined with the very latest technologies and manufacturing techniques, gave Guldmann a unique opportunity to take a major step forward in ceiling hoist technology.
The new GH3 design and technology set dramatically new benchmarks for what can be achieved with modern ceiling hoist systems, both in terms of appearance and how well they can do their job.
The GH3 ceiling hoist concept is designed for the future and designed to provide more time to care.
The system is available as small free-standing, self-suporting and removable units or as installed wall or ceiling mounted systems. The major focus is now on the newer Guldmann GH3 system which replaces the GH2, but is compatible with GH2 Rail Systems ensuring continuing support for older track systems without the need to replace everything.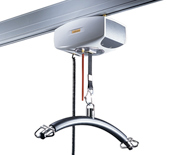 The Guldmann GH2 system features lifting modules that are capable of lifting between 200kg and 455kg, depending on the configuration.
Permanent or Moveable Options
Heavy Duty Options