Stairlifts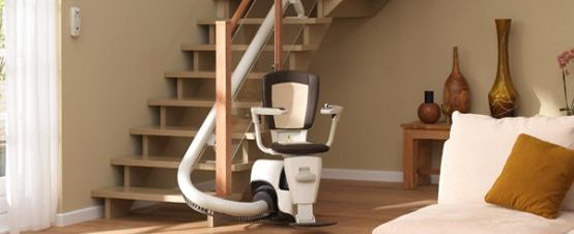 Stairlifts can be a very important addition to the home for people with mobility needs and there are many key benefits. As the population ages many may face challenges in climbing the stairs and this can have a profound impact on our health and well being.
Put simply, a stairlift can help someone get up and down the stairs reducing the potential risk of injury from walking up and down stairs. Stairlifts are designed for safety and comfort with cushioned seats, footplates and backrests being common features on many products. Safety features built in include seat belts; safety harnesses; pressure sensitive edges; battery backup and service diagnostics. Stairlifts are designed to be very simple to use with various easy to operate controls available for the user to control the stairlift including joysticks and infra red options. Some models can easily be folded away to reduce the obstruction in a stairway or hall.
Having a stair lift can open up the whole house to someone, where previously they may have been restricted to just the ground floor of their home.
Independence is highly valued and most of us as we get older will prefer to remain in the comfort of our own home than go into a hospital or institutional care facility. It is widely accepted by healthcare professionals that the quality of life and mental well being is retained longer in a home environment than with a care-home placement.
A stairlift is an excellent, cost effective, easy and safe way of securing independence in the home for longer.