Guldmann GLS5 Active Lifter – Stand Aid
Product Benefits
Electric Leg Opening
155kg or 205kg
Manoeuvrable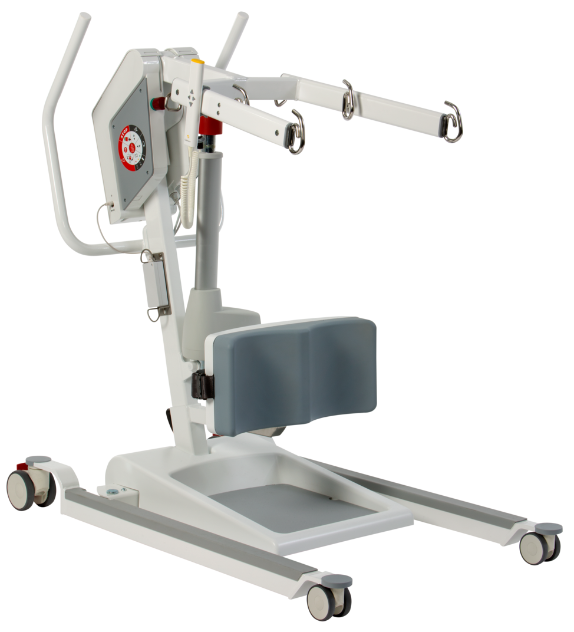 Guldmann mobile lifters are all-round lifters and when combined with Guldmann ABC lifting slings can meet most lifting requirements for patients and disabled persons.
The Guldmann GLS5 Active lifter – stand aid offers an easy, comfortable and safe way to raise and support patients with partial or complete control of upper body.
One lift offers many functions:
• Sit to stand
• Standing balance (with foot tray removed)
• Transfers from chair to chair
• Transfers from bed to chair
• Transfers from bed to toilet
The GLS5 is easy to adjust to comfortably fit most heights and sizes of users with padded and adjustable knee support and multiple sling attachment points. The push handles are ergonomically designed for caregiver comfort.
With multiple sling sizes for comfort and support and the option of an add–on hip sling to assist with hips and buttocks raising this Active lifter offers excellent safety and comfort.
Features:
SWL 155 or 205 kg
Designed for intensive use in professional environments
Strong 24V/4,5AH NiMH battery ensures extended battery life
Shorter charging time to full battery capacity
More lifts from a single charge
Strong, quiet and fast Linak actuators
Audio and visual indicators for low battery
Varied charging options – on board and off board via extra battery
Built in and easily accessible docking station for battery
Extra battery packs as option
Contact Us
To contact us call on 0845 838 0600 or email us using info@taylordolman.com. Alternatively, complete your contact details below and we'll get in touch as soon as possible: