Ropox Adjustable Toilet Lifter
Product Benefits
Height Adjustable
Safe & Easy To Use
Range of Accessories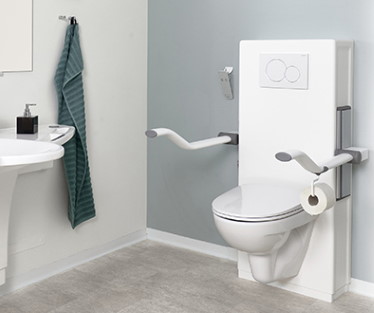 The New Ropox Toilet Lifter is designed to help people to get on and off the toilet easily and safely. It has an elegant and simple design which coordinates with other Ropox products within the bathroom ranges and is easy to keep clean affording high standards of hygiene.
By using the Ropox Toilet Lifter the user and helper obtain greater support and improved mobility and the user will be safely seated for daily bathroom routines. The Toilet Lifter can be height adjusted with a range of up to 40 cm.
It is easily adjusted from the seated position by electrical adjustment using a simple hand control. Alternatively the manual version can be adjusted before use by the care giver using a manual adjustment a handle.
Ropox Toilet Units are available in 3 different types electric, manual or basic and has a range of optional extras available if required.
Optional Accessories:
Long WC Pan
Short WC Pan
Backrest for Long WC Pan
Backrest for Short WC Pan
Support Arms
Toilet Roll Holder
Contact Us
To contact us call on 0845 838 0600 or email us using info@taylordolman.com. Alternatively, complete your contact details below and we'll get in touch as soon as possible: