Ropox QuickWash Basin
Product Benefits
Elegant Design
Simple & Durable
Convenient Size
Product Info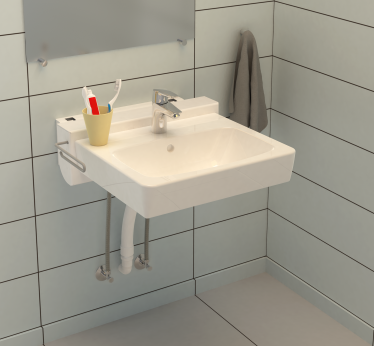 The Ropox QuickWash is a very user-friendly  height adjustable washbasin, and the size makes it ideal for confined spaces and smaller bathrooms or cloakrooms that may not have been designed for accessible use. It offers good legroom beneath the basin allowing wheelchair users to get close. It is also suitable for a standing user in it upper position.
The height of the washbasin is adjusted with the release handle on the side of the sink and projects off the wall and lowers itself 14 cm from its fixed point and moves 10 cm out from the wall increasing the knee space under the sink. It is assisted and requires minimum effort to adjust.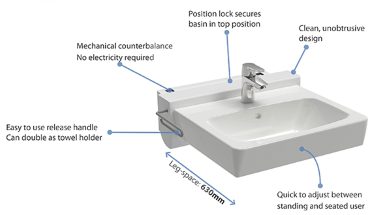 Quick and easy to install the QuickWash is a preassembled unit ready for a quick and easy installation and does not require any power supplies. This makes it a cost-effective solution for those who are less able to live as independently as possible.
Like all other ROPOX products, QuickWash has been tested and certified to all relevant ISO standards. This is your guarantee that the washbasin is durable and reliable for years on end.
Contact Us
To contact us call on 0845 838 0600 or email us using info@taylordolman.com. Alternatively, complete your contact details below and we'll get in touch as soon as possible: