Ropox VanityLine Wash Basin
Product Benefits
Modern Elegant Appearance
Wheelchair User Friendly
Space for Toiletries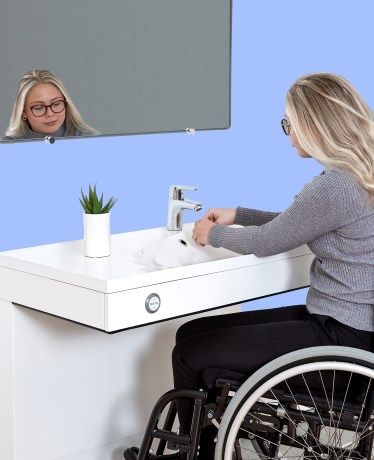 Ropox VanityLine washbasins do not compromise on either design or user-friendliness. VanityLine units have a modern and elegant look whilst being easy to use for people with limited physical capability.
There is plenty of room under the washbasin allowing easy access for wheelchair users. The bowl itself is only 120 mm high with soft ergonomic curves and the standard tap has a good height ensuring all users can reach the tap and get their hands under the water flow. The basin tops also provide plenty of flat surface space for toiletries or personal items.
The VanityLine washbasins have electrical or manual height adjustment. The electrical control switch is located on the front of the washbasin making it easy to reach, and you can decide whether you prefer the switch on the left or right side of the washbasin.
VanityLine is available in three different sizes and two different models with the washbasin on the left side or right side of the unit.
Contact Us
To contact us call on 0845 838 0600 or email us using info@taylordolman.com. Alternatively, complete your contact details below and we'll get in touch as soon as possible: