NEW Ropox FlexiPLus
Product Benefits
Quiet Operation
Greater Height Adjustment Range
Easy to Install
Product Video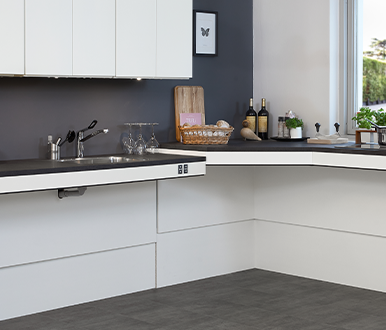 FlexiPlus Frames offer quiet operation, flexible height adjustment especially designed for accessible spaces.
FlexiPlus frame is adjustable to a 300mm range as standard and is programmable to a height adjustment from0-660 mm. It offers a quieter height adjustment, an elegant cover of mounting screws, a more flexible placing of legs and fewer components to aid installation. FlexiPlus is a plug and play solution. If the existing piping hinders the mounting of the table frame on the wall you can install FlexiPlus using distance brackets which also gives you more room for a deeper worktop, e.g. for sink or hotplates. On FlexiPlus you can level out the worktop in three directions to allow you to adjust the frame and worktop to get it plumb and level.
Options include a control device with a key lock or a remote control and an App that allows the frames to be adjusted from a distance without reaching for the control buttons on the unit. They can also be configured with pre-set heights.
The built-in ROPOX Sicuro anti-collision is an extra safety feature that registers power peaks underneath and on top of the tabletop. If it identifies hard objects, the table stops and relieves the pressure and is in addition to adding the safety stop option on the front edge of the worktop which can avoid entrapment when operating the table.
Contact Us
To contact us call on 0845 838 0600 or email us using info@taylordolman.com. Alternatively, complete your contact details below and we'll get in touch as soon as possible: