Ropox FlexiManual
Product Benefits
Easy to Use
Manual Adjustment
Product Info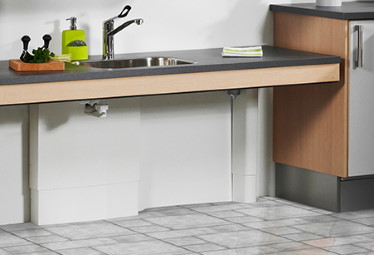 The Ropox FlexiManual worktop height adjustable system is adjusted manually with a handle. To change the height, you put the handle in the transmission drive on the front edge of the worktop and turn it a few times until it reaches the desired height. It makes it easy to set the table to a level that fits the individual user and is ideal for less frequent adjusment.
Stability of the worktop is essential when you mount a lift system to make a kitchen userfriendly. The worktop frame is secure and firm, stable and durable. As FlexiManual is installed on the wall and as the worktop is mounted onto the horizontal support arms, the table becomes very strong and sturdy. If you have a kitchen where you need extra support, e.g., if you need to mount the system on a non-bearing wall, you can use extra support feet to obtain the stability that is required.
FlexiManual lift system is tested and approved according to the standards for assistive aids for disabled people, and they can withstand a load of up to 150 kg. FlexiManual is an ideal solution for kitchens that are used by people with limited functional capacity.
Contact Us
To contact us call on 0845 838 0600 or email us using info@taylordolman.com. Alternatively, complete your contact details below and we'll get in touch as soon as possible: