Ropox FlexiElectric
Product Benefits
Electric Adjustment
Easy to Use
Product Info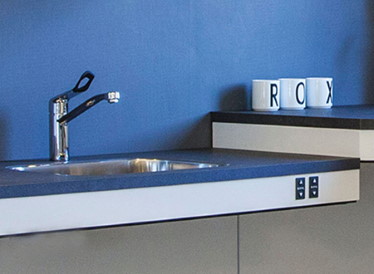 Ropox FlexiElectric is a lift system that makes kitchen worktops height adjustable and provides the elderly and less able with a kitchen surface they can adjust to their individual needs. This makes the solution suitable for private homes, schools, sheltered housing, nursing homes and many other places where people with limited functional mobility take part in the kitchen activities.
FlexiElectric is flexible enough to fit worktops from 60-300 cm in length and 58-62 cm deep. This allows you to use the frame in disability friendly kitchens and other environments where you need a height adjustable kitchen worktop.
The frame has vertical legs and horizontal support arms. The sturdy support arms keep the kitchen worktop stable and firm, and the result is an elegant floating worktop with maximum flexibility.
The frame is easy to mount. It is mounted on the wall, and if you would like it on a non-bearing wall, you can add support feet to provide extra stability to the worktop.
Contact Us
To contact us call on 0845 838 0600 or email us using info@taylordolman.com. Alternatively, complete your contact details below and we'll get in touch as soon as possible: