Ropox Smart Box
Product Benefits
Added Safety
Links Upper and Lower Units
Product Info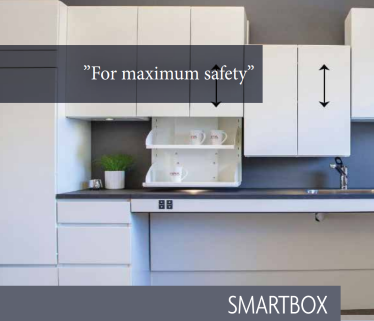 The Ropox Smart Box offer safety for the user when installing electrically operated heaight adjustable kitchen solutions using upper and lower cabinets or wortops.
Its recommended that all Ropox upper cabinets (VertiElectric, VertiInside, Diagonal) are supplied with a safety stop plate to avoid trapping when moving the cabinets down.
The Ropox table tops system (FlexiElectric) should be supplied with a safety strip to avoid trapping when moving downwards.
Upwards movement: If trapping can occur through upward movement of a worktop: • With an adjacent worktop • With a wall unit above …..then at least two smart boxes should be used.
Contact Us
To contact us call on 0845 838 0600 or email us using info@taylordolman.com. Alternatively, complete your contact details below and we'll get in touch as soon as possible: