Guldmann GH3 Swing Lift
Product Benefits
Up To 205kg Lifting Capacity
Outdoor Use
Product Info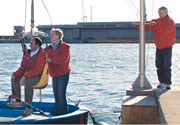 The Guldmann GH Swing Lift II makes it possible for all – irrespective of their physical capability – to participate in activities in and around the water.  It is designed for swimming facilities, outdoor pools and quaysides and larger boats.
Swing lift is a rail system made of weather and waterproof material. This makes a Swing lift installation ideal for sports and leisure activities, as well as for training, rehabilitation and therapy.
Swing lift can also be installed directly on large boats so that the rail system and lifting module follow the vessel from one harbour to the next.
Guldmann Swing Lift is available in the following lifting capacity:
* Model 17200: max. capacity 205 kg.
The Swing Lift can be mounted with a GH1Q lifting module with external recharging  away from site and indoors.
Contact Us
To contact us call on 0845 838 0600 or email us using info@taylordolman.com. Alternatively, complete your contact details below and we'll get in touch as soon as possible: