Guldmann GH3 Combi-lock
Product Benefits
Link Two Rail Systems
Automatic Operation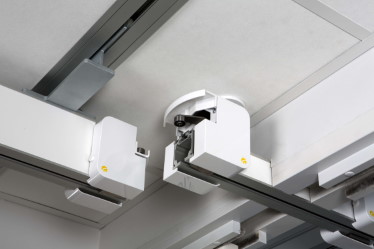 The Guldmann GH3 Combi-lock is used to lock rails together when two rail systems are linked. The Combi-lock is always used in combination with two safety locks to prevent the hoist leaving the rail accidentally.
The Combi-lock offers a fully automatic manual operation requiring no wall switch, Infra-Red control or power supply to operate the gate.
The  Combi-Lock allows multiple room covering hoist systems or room covering XY tracking to a single mono-rail system to be connected together allowing the ceiling hoist to be moved smoothly from one system to the other.
The Combi-lock features an elegant design and therefore blends in seamlessly with most settings. It is also easy to clean and maintain.
When a room-covering XY (or H Frame) system is linked to a single track system, the single track system will be suspended in order for the two systems to be at the same height.
Contact Us
To contact us call on 0845 838 0600 or email us using info@taylordolman.com. Alternatively, complete your contact details below and we'll get in touch as soon as possible: