Guldmann GH3 Wall Stud
Product Benefits
For Rooms With Window Walls
Product Info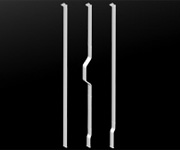 Guldmann GH3 upright support brackets are used in rooms where it is impossible to secure brackets to the ceiling or wall – for example, rooms with extensive window areas; and institutions or hospitals, where it is difficult to fasten brackets to the ceiling due to various pipe systems. The wall stud passes the load through the floor.
Upright support brackets can be supplied with various types of adapter that make it possible to lead studs around such obstacles as cable and installation panels or skirting boards.
Installation
The upright support brackets are installed on the floor, but the brackets must also be fastened to the wall in order to guide them.
Contact Us
To contact us call on 0845 838 0600 or email us using info@taylordolman.com. Alternatively, complete your contact details below and we'll get in touch as soon as possible: