Guldmann GH3 Free Standing Rail System
Product Benefits
Easy To Install
Acute or Contemporary Lifting Situations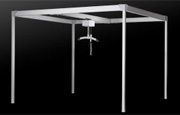 The Guldmann GH3 free-standing system is a mobile rail system which is easy and simple to install and take down, thus facilitating its use in different places (note – it is not a mobile hoist and it is not a wall or ceiling-mounted rail system).
always within reach, ready for use
does not take up floor space, ensuring optimum comfort for the user and carer
easy to install and take down
does not require modification of the building
suitable for re-installation
suitable for acute and/or contemporary lifting situations
maximum capacity: 250 kg
The free-standing mobile rail system can be installed and taken down by two people without using special tools.
It is available as a single rail system (A-frame) and a room-covering system (H-frame).
Contact Us
To contact us call on 0845 838 0600 or email us using info@taylordolman.com. Alternatively, complete your contact details below and we'll get in touch as soon as possible: