Guldmann Spacer Sit On Slings
Product Benefits
Comfortable Spacer Material
SWL 255kg
Product Info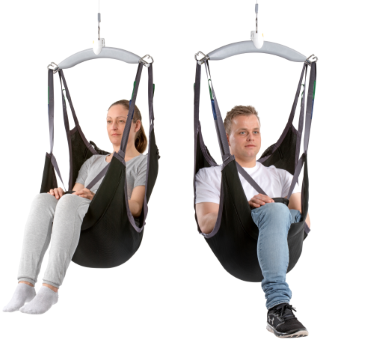 The Guldmann Sit-On sling range is designed for lifting and moving users who then need to remain sitting on the sling and are suited for a specially designed wheelchair, or users who need to be lifted frequently. The head support can be adjusted to suit the user's needs or folded away whilst sitting in the wheelchair. The sling supports the thighs, back and head and is designed to prevent the thighs from rotating inwards during the lift.
The Sit-On Comfort  sling is designed for transfers to and from sitting positions from a bed or wheelchair, it is fitted while the user is in a lying position.
The Guldmann Sit-On sling offers:
SWL 255 kg.
A range of types and sizes
Is made from Spacer material
Is durable and easy to work with
The fabric provides extra comfort and is breathable
Affords good airflow
Reduces the risk of heat and moisture forming
The sling label includes a QR code linking to an instruction video and user manual.
The sling can be used with all Guldmann ceiling hoists and mobile lifters and features hook/loop type connections.
Contact Us
To contact us call on 0845 838 0600 or email us using info@taylordolman.com. Alternatively, complete your contact details below and we'll get in touch as soon as possible: