Guldmann Gait Trainer
Product Benefits
Gait Training
Standing Balance
Treadmill Training
Product Info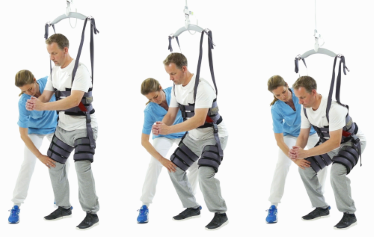 The Gait Trainer is a walking sling with leg cuffs for users who have sufficient leg strength to stand upright but need support and to feel safe during training due to reduced balance. The Gait Trainer sling provides the needed support during for early mobilization and balance training, walking and gait training.
The sling comfortably supports the upper part of the body and has leg cuffs for enhanced safety. The Gait Trainer is ideal different kinds of standing or sitting exercises and gait training, and provides confidence and safety for both user and carer.
Use the Gait Trainer for:
Transitions postures
Standing balance
Standing: reactions, reflexes
Sitting: balance
Sitting: reactions, reflexes, responses
Protective responses
Weight shifting
Gait training
Stair, steps, curbs training
Partial weight-bearing
Bodyweight supported treadmill training
The Guldmann Gait Trainer is available in several sizes and made from polyester material. It has a lifting capacity of up to 255 kg.
Contact Us
To contact us call on 0845 838 0600 or email us using info@taylordolman.com. Alternatively, complete your contact details below and we'll get in touch as soon as possible: