GH1 Adjustable Gantry
Product Benefits
Free Standing
Height Adjustable
Width Adjustable
Easily Assembled
Product Info
The GH1 ceiling hoist system is designed to meet the full range of day-to-day lifting needs in a wide range of environments. It takes up very little space, and is very easy to use with the full range of Guldmann lifting slings and other lifting accessories. The GH1 lifting module has a SWL of up to 255 kg, operated by an easy-to use hand control and has a smooth easy manual traverse. With fast recharging by placing the hand control in the GH1 recharging dock, a fully charged lifting module can cope with more than 55 lifts of 85 kg.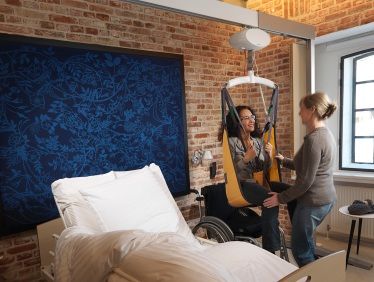 The free-standing adjustable rail system is ideal for immediate and temporary lifting needs. The rails are easy to adjust in both height and width and the gantry provides a simple way to deal with temporary hoisting needs or situations where a fixed installed track system is not desired. The entire system can be set up and taken down again in around 10 minutes, with no tools needed.
The GH1 Free-standing adjustable gantry system consists of legs and a single rail and comes inclusive of:
2 height adjustable legs with stabilizing feet
GH1 hoist module and a standard lifting hanger
A recharging dock where the hand control is placed for recharging.
The height of the legs can be adjusted from 210 cm – 280 cm
The width of the track can be adjusted from 250 cm – 390 cm.
Contact Us
To contact us call on 0845 838 0600 or email us using info@taylordolman.com. Alternatively, complete your contact details below and we'll get in touch as soon as possible: