Changing Concepts – Space To Change
Product Benefits
Penninsular WC
Swing Basin
Fold Away Bench
Full Hoist Coverage
Product Info
People who are unable to transfer independently or have no sitting balance need additional facilities such as an overhead track hoist to transfer between their wheelchair, the WC and an adult sized changing bench. Many people with profound and multiple learning disabilities are doubly incontinent and have total dependency on their care assistants for their personal care needs.
It's not always possible to find sufficient space to have the recommended 4x3m room layout. This leaves building managers with the problem of either providing no suitable facility for people who need to change lying down or to design a compromise which can still achieve the objectives set out in Changing Places. The room layout for Space to Change shows one possible flexible solution.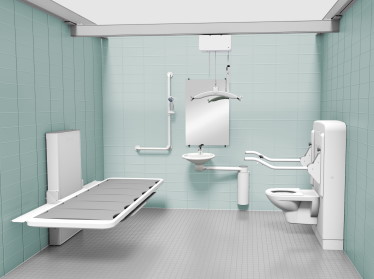 The range of people who might use CP toilets includes:
people with conditions that may affect their movement, including cerebral palsy, multiple sclerosis, motor neurone disease, acquired brain injury
people with profound and multiple learning disabilities
people with head injuries or severe spinal injuries
elderly and less able people who require assistance
people living with stroke
ex-service personnel
They need access to facilities where they can be changed with dignity and where assistants are able to use a hoist and other equipment to provide appropriate and safe care.
Contact Us
To contact us call on 0845 838 0600 or email us using info@taylordolman.com. Alternatively, complete your contact details below and we'll get in touch as soon as possible: