Changing Concepts – A Changing Place
Product Benefits
Space Enough to Change
Room Covering Hoist
Adjustable Basin
Changing Bench
Product Info
Whats in a Changing Place space?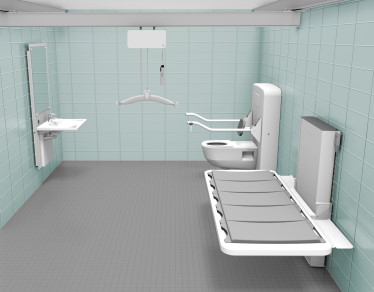 A registered Changing Place requires:
be at least 3x4m with a min ceiling height of 2.4 m.
an XY room covering ceiling track hoist system with a 200kg capacity
height adjustable, adult sized changing bench with a 200kg capacity
height adjustable washbasin
adequate space for the disabled person and up to two assistants
space to accommodate large complex wheelchairs and to fit slings for use with the hoist
it also needs to be possible for a wheelchair to be parked within the facility when not in use without compromising the safe access and use of the equipment.
peninsular fitted toilet with space both sides for assistants
privacy screen
wide paper couch roll
large waste disposal bin
Although not necessary in all changing place toilets it is desirable to include shower facilities in addition to the items listed above. Changing Place facilities also allow assistants to use the toilet without leaving a disabled person unattended, which is not possible in regular toilet facilities which do not have a privacy curtain or screen in a big enough space.
Contact Us
To contact us call on 0845 838 0600 or email us using info@taylordolman.com. Alternatively, complete your contact details below and we'll get in touch as soon as possible: