Changing Concepts – Small Space Hygiene Room
Product Benefits
Flexible Equipment
Accessible Spaces
Range of Options
Product Info
Where space is at a premium and a larger room for a Changing Place just cannot be accommodated  flexible solutions can still be created using well designed equipment and thoughtful design.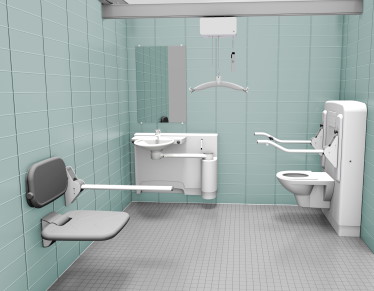 The layout above shows a space for a Shower and Toilet Room for someone with disabilities which follows a Part M (Building Regulations) recommendation. In this instance it shows a design for a right handed transferee. We can make layouts using a wide range of products to suit a huge array of needs and this is just one example.
We frequently see examples of small spaces being converted to hygiene rooms in schools where the space for Primary Schools should include a changing bed and accessible WC unless this is included in an adjacent accessible toilet. In a secondary school, this should contain an accessible shower, sluice toilet and changing trolley or  wall bench.
Full hoist coverage can still easily be achieved with the flexible Guldmann tracking system.
Contact Us
To contact us call on 0845 838 0600 or email us using info@taylordolman.com. Alternatively, complete your contact details below and we'll get in touch as soon as possible: