Ropox Mobilio Changing Bed
Product Benefits
Height Adjustable
Replaceable Mattress
Braked Castors
Product Info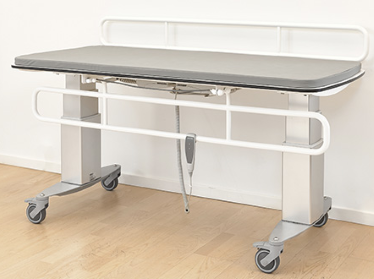 The Ropox Mobilio changing bed is a height adjustable, freestanding changing trolley. The four brake wheels ensure that the changing table is stable and that it is easy to manoeuvre.
The height is adjustable from 52-92 cm by using a hand control which has a 3-meter spiral cord allowing the caregivers to adjust the height from all sides of the table.. Ropox Mobilio changing bed is available in five models at 70cm wide and from 120 cm to 190 cm long.  Available with bed guards on both sides and a mattress for increased safety and comfort.
It is also available with central brake, which locks all wheels at once. The changing bed can be connected to a standard electrical outlet with a three meter long electrical height adjustment cord. A battery is available as an accessory.
The replaceable mattress has a cleaning-friendly surface that makes it easy to clean after use. Side Guard Rails covers are also available.
Contact Us
To contact us call on 0845 838 0600 or email us using info@taylordolman.com. Alternatively, complete your contact details below and we'll get in touch as soon as possible: