Ropox Mobilio Shower Trolleys
Product Benefits
Height Adjustable
Reversible Slats
Battery Option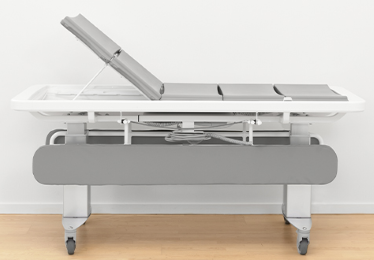 The Mobilio shower bed's design affords the user always a comfortable lying surface on the soft padded slats that allow the water to drain straight away. This means the user is not lying in dirty water which is collected in the drip tray to drain away by the flexible waste pipe.
The slats can be lifted out individually for reduced manual handling and easy cleaning between users. The reversible slats have a soft, warm and pleasant feel. They bend slightly downwards on one side, so the user lies safely and securely in the shower, and water and soap can run quickly into the tray and away. The other side bends slightly upwards, which makes it easier for the care workers to turn a user when helping them change.
Height adjustment is with a hand control and allows the carer to find a healthy work posture and easy access to the shower bed. It also offers a user good access onto the shower bed from a wheelchair. The mobile shower/changing trolley bed is available with a battery option or fixed power cord. Supplied with braked castors they also have an option for a central braking system.
Contact Us
To contact us call on 0845 838 0600 or email us using info@taylordolman.com. Alternatively, complete your contact details below and we'll get in touch as soon as possible: