Etac-Molift Smart 150
Product Benefits
Compact & Lightweight
Transportable
SWL 150kg
Product Video
Product Info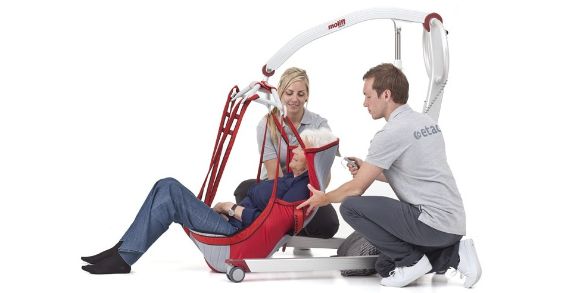 Etac Molift Smart 150 is designed to be easily wheeled and transported to where it is required. It is suitable for use in home care, for travelling or to be easily stored away.
The lifting range of 27 – 168 cm provides an excellent maximum lifting height and at the same time gets very low, facilitating lifting from the floor. Standard 4-point sling suspension ensures a comfortable and spacious lifting position for the user. Molift Smart 150 has been awarded for Design Excellence by the Norwegian Design Council.
Molift Smart 150 has a unique construction that distributes weight evenly and together with the compact footprint makes it easy to maneuver even in narrow spaces.
Features include:
Standard 4-point suspension ensures comfortable and more spacious lifting position for the user.

Molift Smart has a large lifting span that allows lifting from the floor as well as high surfaces.
Molift Smart folds and unfolds easily without using any tools and can be separated into two parts where the heaviest part weights only 13 kg.
Includes Integrated Service Software
Accessories available:
Hard shell wheeled travel case with TSA approval for air travel
Soft shell travel bag has extra large transport wheels. It protects the lift, and enables easy transporting.
Molift Scales Class III approved. The scales also calculates BMI (Body Mass Index).
Contact Us
To contact us call on 0845 838 0600 or email us using info@taylordolman.com. Alternatively, complete your contact details below and we'll get in touch as soon as possible: