Etac Molift Quick Raiser
Product Benefits
Light & Compact
Manouvrable
3 Weight Capacities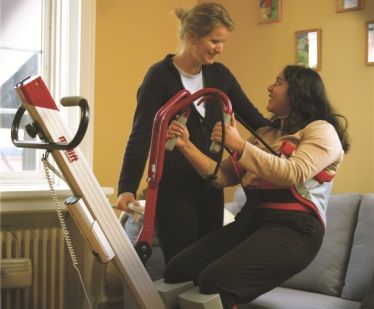 By virtue of its compact design and low weight, the Molift Quick Raiser range of standaids are stable and easy to manouevre. The unique wheel position and near perfect weight distribution of the base provides a small turning radius with easy manoeuvrability even in narrow spaces.
The inclined straight column imitates the natural pattern of movement and fulfills the lifting needs of users with some degree of weight bearing capacity.
Molift Quick Raiser 1 has a safe working load of 160 kg . The extra low base (70 mm) and narrow front (340 mm) fits well around toilets, under most beds, chairs and wheelchairs.
Molift Quick Raiser 2 with electrically spreadable leg base has a safe working load of 160 kg.
Molift Quick Raiser 2+ has been adapted for higher safe working load, up to 200 kg. It has a reinforced column and suspension and electrically spreadable leg base.
Features:
Inclined straight column imitates a natural pattern of movement.
Integrated service software.
The knee pads are height adjustable and can be turned around for better fitting & to give alternative support for the legs.
Powerful NiMH-battery.
Contact Us
To contact us call on 0845 838 0600 or email us using info@taylordolman.com. Alternatively, complete your contact details below and we'll get in touch as soon as possible: