Guldmann Foldable Horizontal Lifter 250kg
Product Video
Product Info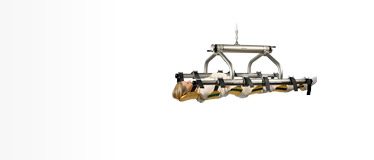 The Guldmann Foldable Horizontal Lifter is suitable when a horizontal and stable lift is required, and is used with the GH2 ceiling hoist.
The horizontal lifter is used together with a ceiling hoist with only one lifting strap and in combination with a lifting cloth under the patient or with a set of sling straps.
Special locks for attaching the lifting sheet or the sling straps are available at both sides of the horizontal lifter. The locks are easy to use, as they have a self-locking function to ensure the attachment of the sling straps, and they also offer the possibility of adjusting the sling straps.
The horizontal lifter has a weight adjustment system that can be controlled from both sides of the lifter. Furthermore, telescopic arms at each side offer the possibility of minimizing the size of the lifter when not in use. A wall bracket is provided for storage of the lifter. It folds the lifter so that it will take up a minimum of space on the wall.
Alternatively, a special transport/storage trolley can be ordered, in which the horizontal lifter is placed – ready for use. Placed in the trolley the lifter takes up very little space and can easily be transported from room to room. In this way one horizontal lifter can cover the need for a horizontal lift in more rooms.
The maximum load of the horizontal lifter is 250 kg.
The weight of the lifter is approx. 27 kg and the material is anodized aluminium.
Contact Us
To contact us call on 0845 838 0600 or email us using info@taylordolman.com. Alternatively, complete your contact details below and we'll get in touch as soon as possible: