Guldmann GH3 Plasterboard Bracket
Product Benefits
Plasterboard or Other Light Walls
Max Load Up To 250kg
Product Info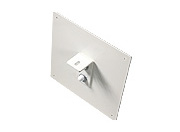 The Guldmann GH3 plasterboard bracket is used as an adapter for the GH3 wall bracket when installing on plasterboard walls or similarly light walls, providing the necessary high stability and strength to install GH3 rail systems.
Please note –  it is a requirement that these are double plasterboard walls at least 24 mm thick.
Installation surface:  (WxH) 303×303 mm.
Installation
The GH3 plasterboard bracket can be secured direct to the plasterboard wall with four Fischer HM 5 x 65 S. The GH3 wall bracket must then be secured to the two threaded rods on the GH plasterboard bracket with 10 mm nuts and, if necessary, lock nuts.
Exception
Must not be used in systems with a maximum load over 200 kg.
Contact Us
To contact us call on 0845 838 0600 or email us using info@taylordolman.com. Alternatively, complete your contact details below and we'll get in touch as soon as possible: