Guldmann GH3 Lift Module
Product Benefits
Up to 250kg Lifting Capacity
Easy To Use
Product Video
Product Info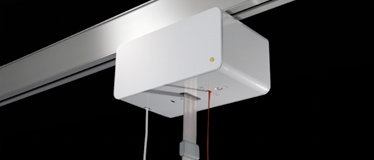 The GH3 system is a modular design concept whose classic yet contemporary appearance ensures GH3 installations blend perfectly with both new and existing buildings, architectural styles and interior designs.
Guldmann GH3 lifting modules are state-of-the-art hoist motors that help to meet the changing needs of our customers in today's demanding professional healthcare environments.
This system has the big advantage that it is always ready for use with the lifting modules being continuously charged on the rail. These lifting modules move quietly using only a minimum of current. Transitions between rail sections are virtually unnoticeable, for maximum smoothness and comfort for the user.
The GH3 lifting modules are capable of lifting from 200kg to 250kg and is a user-friendly and extremely powerful and fast ceiling hoist for permanent installation. Horizontal traverse drive motors can also be specified.
Contact Us
To contact us call on 0845 838 0600 or email us using info@taylordolman.com. Alternatively, complete your contact details below and we'll get in touch as soon as possible: