NEW – Guldmann GH Class III Integrated Weigh Scales
The integrated Class III Scale is used for the medical weighing of patients as they are lifted in a sling. Suitable for hospitalisation in an intensive care unit where accurate monitoring of patient weight changes is necessary and in care homes where there may be a need to ensure that an elderly resident maintains a stable weight.
The Class III Scale is the first approved medical scale on the market that is integrated into a ceiling hoist module, fulfilling the conditions for medical weighing with calibrated, verified and repeated weight measurements with Class III precision in accordance with EU Directive 2014/31/EU.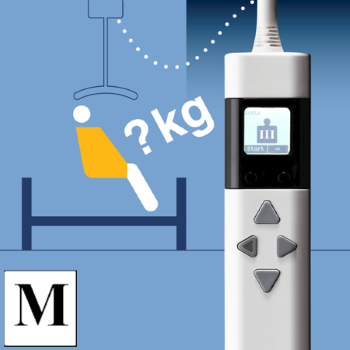 The weight is displayed on the hand control with 100 grams accuracy when weighing patients under 200 kg and 200 grams accuracy when weighing patients from 200-500 kg.
In principle, the medically approved and integrated scale works in the same way as Guldmann's existing integrated weighing module but with Class III precision and meeting all the requirements for medical weighing.
Medical scales are made to order.
Call or email for further information.
0845 838 0600 / info@taylordolman.com